We had this canoe trip down the Green River through Canyonlands NP planned for several months, actually a couple of years. We wanted to get it in a year ago but other things came up and it was postponed to this summer. Well, Mother Nature had other ideas and four days before we were to put-in at Mineral Bottom for a 52 mile trip down the Green to the confluence, it rained...hard. Check this link for a picture and story about the steep, switchbacks into the Mineral Bottom boat ramp.
http://moabtimes.com/view/full_story/92 ... leftcolumn
So, onto Plan B, either launching from Ruby Ranch another 47 miles upriver and paddling 20 miles a day or paddle the Colorado at less than 10 a day. We opted for the lazy route and set out down the Colorado River.
The Colorado has much more boating traffic, commercial tour boats and commercial raft trips and with the Green closed at Mineral several other canoe and kayak groups chose to paddle it as well. Despite the extra boats and people we had a great time, the weather was gorgeous, mornings and evenings were glorious. We were moving so slowly and stopping at every interesting place that the other boaters would pass us quickly and we ended up staying behind the masses anyway.
Anyway here are pictures from this trip.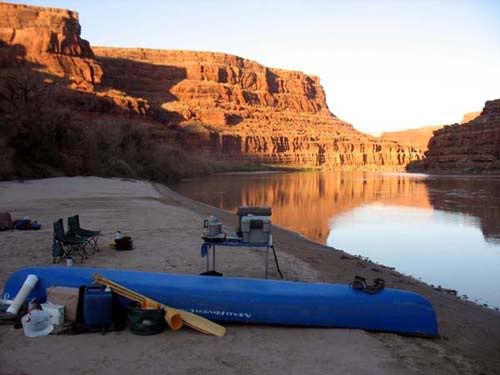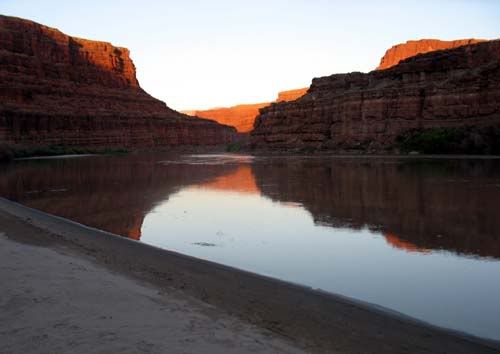 We played Sunrise Roulette every morning, I nailed it the first day, short-lived however, my wife won the rest of the week.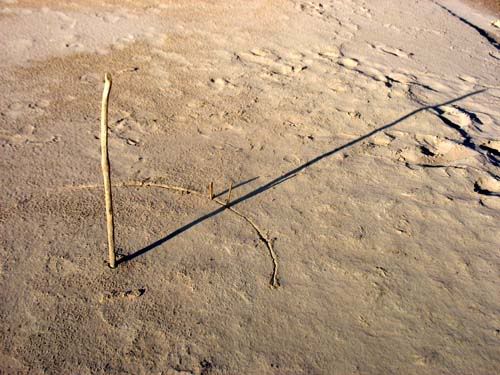 Every side canyon we tried to stop at was a muddy washout from the recent rains and floods. This is the debris filled mouth of Shafer Canyon.