Moderator: somehiker
Posts: 693
Joined: Thu Jan 14, 2010 8:51 pm
anti-spam detector: No
The middle number please (4): 4
Lower cave/mine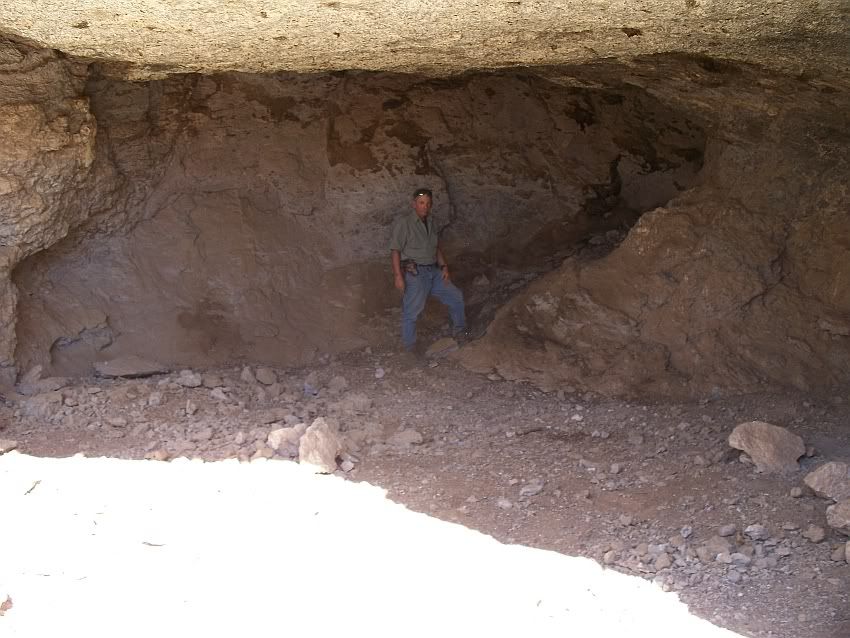 Posts: 693
Joined: Thu Jan 14, 2010 8:51 pm
anti-spam detector: No
The middle number please (4): 4
Tom:
A map by James Bennett,dated 1867,shows the old Indian Trail (Pima Trail) from the Pima Village near Maricopa Wells.It goes North-East into the Superstition mountains,passing through a place with a watercourse ,which on the map is called Mission Valley.It continues on to other places called Cow Springs and Wheat Camp.Then further to the East.Are any of these place names included in your book?
http://atlas.nmhum.org/pdfs/TopoBureau1 ... hernNM.pdf
http://atlas.nmhum.org/atlas.php?gmap=26
There is one name I can't make out,but I'm sure I have it on another map.
Regards:Wayne
Posts: 693
Joined: Thu Jan 14, 2010 8:51 pm
anti-spam detector: No
The middle number please (4): 4
Tom:
BTW,the dashed line representing the trail was the route taken by the Woolsey Expedition of 1864.
I believe the account of that foray,as well as some of the other punitive expeditions against the Apache/Yavapai,referenced a number of place names which are not found on subsequent maps of the area.

Regards:Wayne
Posts: 1
Joined: Sat Feb 19, 2011 7:12 am
anti-spam detector: No
The middle number please (4): 4
I have an old book on Arizona Place Names dated 1935 and none of the places on the 1867 U.S. Topo Bureau Map trail to the Superstitions are on it. Here's the reference on the book should anyone be interested in finding it:

Arizona Place Names by Will C. Barnes
Published by University of Arizona, Tucson, AZ
University of Arizona Bulletin - General Bulletin No. 2
January 1, 1935

In general it's a good reference book on place names.

DHunter
Posts: 693
Joined: Thu Jan 14, 2010 8:51 pm
anti-spam detector: No
The middle number please (4): 4
Barnes' description of "Apache Junction"...
"On Apache Trail to Roosevelt,just inside Pinal County at junction with Superior highway.
Group of gasoline and eating stations, with an
interesting menagerie of local wild animals
."
Musta been quite the zoo.
even back then...
Regards:SH.
Posts: 67
Joined: Sun Jul 19, 2009 8:35 pm
anti-spam detector: No
The middle number please (4): 4
I am looking for Wayne in hopes that he or someone else new the GPS or could go on Google maps and show be the location of the bat cave on Canyon Lake that was post back in 2011. The cave is located somewhere just beyond beer point in an inlet but I need a little more infor before heading out. Which inlet, how far back, and which side. Any help would be great
Thanks
Riley
Posts: 693
Joined: Thu Jan 14, 2010 8:51 pm
anti-spam detector: No
The middle number please (4): 4
Posts: 2
Joined: Thu Mar 28, 2013 3:09 pm
anti-spam detector: No
The middle number please (4): 4
I know this topic is over a year old but I wanted to interject with some information I obtained about the so-called 'Bat Cave.'

Seeing this is my first post, how about I introduce myself. My name is James and I've been living in AZ sine the early 70s. I grew up like many of you hearing about the Dutchman mine and have trekked into the Superstitions for casual hikes. I'm an avid hiker/outdoorsman. I've never searched for it but have always been intrigued with the history of the mountain range.

Having read a few of Tom Kollenborn's books, I stumbled onto this website and registered as a user to get involved with the posts. In fact, I spoke to some of you already on this forum through private email about what it is I wanted to post.

Being intrigued by the Bat Cave and having technical rock climbing experience, I planned to climb this cave, take video and photos of the top and report back to the forum. But the more research I did, especially talking to experts in the field of wildlife, etc, I decided against it.

I recently spoke to Arizona Game and Fish Bill Burger about his knowledge of the cave. A previous poster mentioned Bill had left a note for the person who had possibly built the ladder.

Bill has been going out to the site regularly since 1997. He does a lot of work in the bat field and used to take bat counts at the cave. Over the past 10 years, the bat population has declined greatly at that location. In 1997, he had a count of over 40,000 bats. It's down to 4000 now.

In January 2011, a Washington man climbed the cave with technical gear and was overwhelmed at the ammonia smell from the bat guano. The guano was unbearable. Extremely moist and slick everywhere. Based on the description of bats found in the cave, Bill identified 2 different species. The cave had essentially been over populated by bats. There was a thin crack in the rock at the top that really wasn't accessible. That's it.

This man reached out to Bill and reported his findings.

The USFS removed the bottom ladder because it was not only a danger to others but was considered litter.

Bill suspects the ladder was a guano harvesting operation in the 40s and 50s. It was used in the manufacture of ammo and fertilizer. This practice has since stopped.

AZFG encourages me to not climb it. They are afraid I'd disturb the bats or cause them to roost elsewhere. Plus it's highly toxic stuff - guano.

I'm working on pics from the Washington man now, but there's no guarantee I'll get them.
Posts: 693
Joined: Thu Jan 14, 2010 8:51 pm
anti-spam detector: No
The middle number please (4): 4
James:

Thanks for posting what you were able to learn about the cave. You are the first one to have shown any interest in it, since I posted my own photos and description. Joe Ribaudo had also suggested a guano-mining operation, but without any documentation to support the idea.
Guano was used in the production of black powder (gun powder), as well as modern explosives.
Saltpetre was the ingredient derived from same.
Amazing that that ladder has been there since the 1940's/50's. I would have guessed it was 10-15 yrs, rather than closer to seventy. Probably wouldn't be a good idea to attempt to climb it or to use the ropes that are still there. It sounds like a place to avoid, and I can testify to the smell of the cave as well. It's far from pleasant. Bat populations are declining everywhere, with a fungus called Geomyces destructans (White-nose syndrome) identified as the cause. Many caves have been closed to explorers because researchers believe humans have spread the disease. This would be one concern for Bill Burger, as he mentioned. I guess they don't believe the bats which can be found throughout other spaces occupied by humans, which interact with bats in those areas that also have these caves, could be in any way responsible for the rapid spread of WNS.
But I do believe we, as responsible hikers, should heed Bill's advise to not make any attempt to reach the upper opening. Hopefully a few photos will surface and satisfy any remaining curiosity.

Regards:SH.
Posts: 577
Joined: Tue Jul 07, 2009 11:19 am
anti-spam detector: No
The middle number please (4): 4
somehiker wrote:This one by Tim P.
History Channel did a story on the Lost Dutchman mine and about this bat cave and ladder on Sunday show 3/15/15 There are pictures in the above posts. More pictures on page 11