Hello Everyone!
This is Dutch's Ditch!
That was a mammoth canal, long with others,
that was dug by the early settlers of Phoenix.
The canal runs north-east and ends at 24th & Van Buren.
A good few mile distance.
Most of it is covered over now
but I think this picture is original cut.
The picture is looking south right at the headway
to the Salt River which is on the other side of the freeway.
The canal system in Phoenix is quite a story.
The Hohokam Indians established a mighty canal network
which supported their thriving civilization f
rom 1050 until around 1400.
Then they abandoned the area.
No one is sure why.
Perhaps a drought?
Jack Swilling receives credit for having the vision
to revive the ancient canal system
and hence re-establishing Phoenix as major city.
Swilling is quite a character in his own right.
In 1867 he made his Irrigation Canal proposal
to some investors in Wickenburg.
Success! With a 10,000 dollar capital investment
the Swilling Irrigating Canal Company was formed and work begun.
Its fairly certain that Jacob Waltz was employed
in this endeavor. He had already homesteaded his land
that the Dutch Ditch diagonally cut thru. What a boon!
To have the land, have employment come thru,
and dig thru your property> A fringe benefit.
He certainly profited from having this water source on his land.
Yet, it may also have contributed to his ruin.
As this ditch probably made the flooding of his land
(late 1890) worse off. One can only surmise.
So in my picture taking I followed this canal
for a few blocks until the remnant of the canal faded away.
This neighborhood isn't uptown! It wasn't when
Jacob lived there and it hasn't improved much.
Any where you go that the Dutchman was---
you need to always look over you shoulder.
But this picture here might very well be his homestead.
Sacred ground! Certainly I'm within a few acres.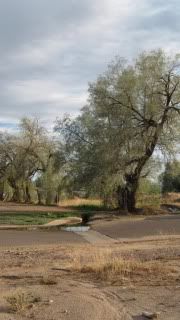 And this noble tree? Heck it may be the tree
Jacob climbed to escape the flood.
It was just a sense I had.
This may not be of much interest
but I have put a lot effort into locating this canal.
I have other photos of maps and such t
hat got me in trouble for taking. Ha ha
In closing, all I can say is:
this may very well be the last verifiable place that
Jacob Waltz dug.
Ed