One of the most famous maps believed to apply to the Superstition Mountains of Arizona, is the Peralta/Fish Map. The map is named after Treasure Hunter/Explorer Frank Fish, who claimed he obtained it in Sonora, Mexico from descendants of the Peraltas, who were wiped out in a battle with the Apaches in 1848.
Shortly before Frank's death he gave the map to Erie Schaefer (Author of the book
Dead men Do Tell Tales
) in which she tells the whole story about how Fish acquired the map. Erie was a long time friend of his. After Erie's death, the map was sold to Al Reser by Bill Schaefer (her surviving husband). Shortly before his death, Al Reser donated the map to the Superstition Historical Society.
There are many hand drawn copies and variations of this map in circulation. Some are quite accurate, although I have not seen any that depict everything correctly, as compared to the original map.
My copy of the map (shown below), is a scan of an 8X10 photo of the map that Al took when it was still owned by Erie Schaefer, and he gave to me just before he donated the original map to the SMHS.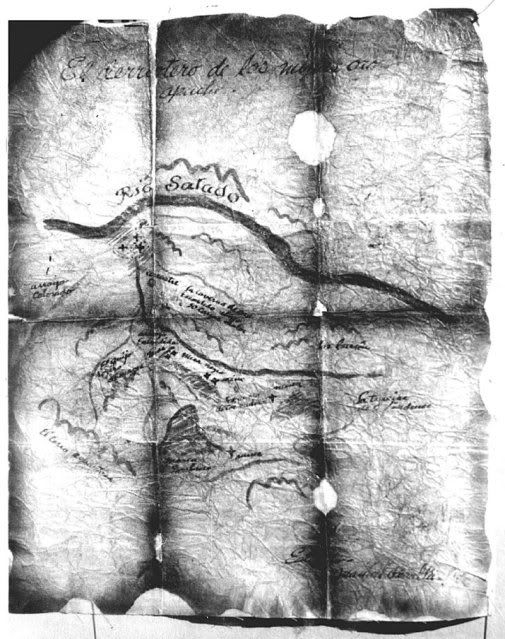 After Al took this photo Erie allowed someone to treat the map with chemicals, to try to bring out more of the fine details in it. The result was that the entire map was discolored, and rendered less readable than it had been before it was treated.
Anyone familiar with the Superstitions, can quickly recognize the familiar landmarks "4 peaks", "The Salt River", "Weaver's Needle" and the "Main Superstition Mountain" on it. Be that as it may... Opinions still vary about where the exact locations, marked by X's (assumed to be mines) actually exist out in the mountains.
Loosely interpreted, there are striking similarities between this map and the
Peralta Stone Maps
. I made several trips into the mountains with Al, listening to him tell me how he interpreted the map, and how it fit the same terrain the Stone Maps apply to. I believe he had the map figured out as close as anyone ever could, but it comes right down to the same problem we all have with all the other maps and set of clues, pertaining to lost mines or buried treasures in the Superstitions. The map is not detailed enough to tell you where to put the pick. Most likely because the mines/treasures it applies to, have been intentionally concealed.
Best,
Jim