"Back in the Day" when my wife used to go hiking with me, we came across a deep tunnel, high up on the Western face (Apache Junction side) of the main Superstition Mountain. I had told Jim Hatt about it a few weeks ago to see if he had ever seen it, and knew who dug it. He said he didn't know it existed, but was interested in seeing it, so we agreed to go look at it sometime.
Today was to be the day. We had gone out to dinner with the wives yesterday evening, and the subject came up over dinner. We agreed to hit the trail this morning and we did.
On the way to it we saw a Gila Monster (he disappeared into the bushes too fast to get a photo of) and a horned-toad. I did get some photos of the toad tho.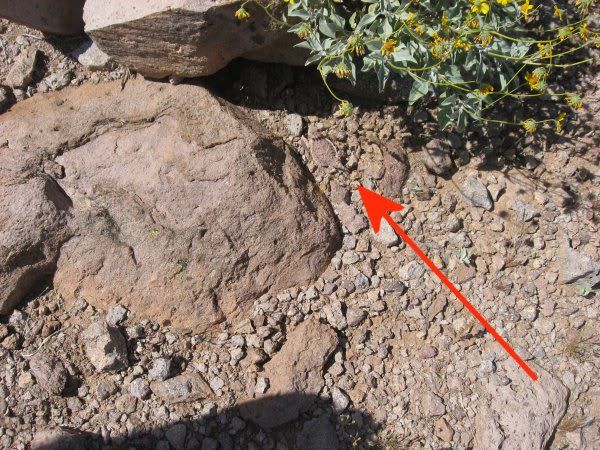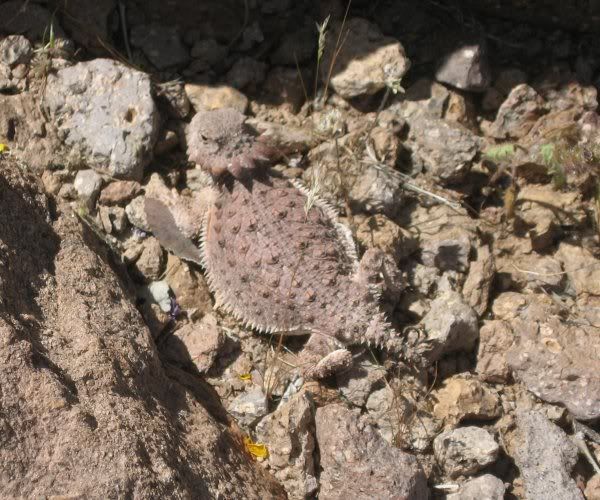 The entrance to the mine was pretty small requiring a person to bend over to almost waist level to enter. I had never been all the way to the end of it before, so I couldn't tell Jim how far it went in when he asked. With nothing more than a nod of agreement, we pulled out our flashlights, squatted down low and entered the tunnel.
Inside it wasn't much bigger. No where through the entire length of it were we able to stand up straight.
Tunnel entrance
(Yeah, I forgot my Sombrero today, Dang-It!)
Gypsy (Not sure if she likes this idea or not).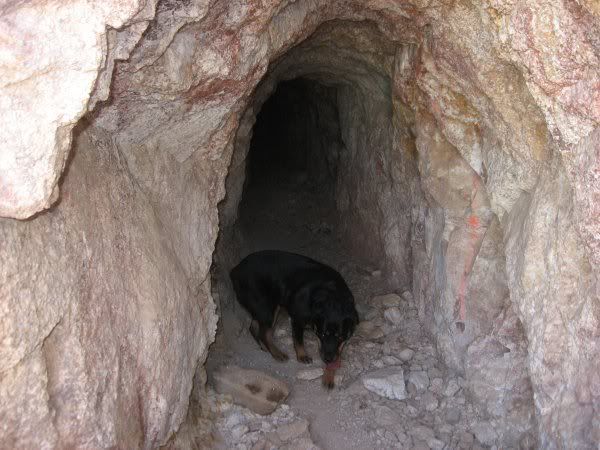 Not sure what the red "day-glow" looking streak is on the right wall. We didn't notice it by the light of the flashlights. We never saw it until we viewed the photos on the computer at home. The camera flash must have made it glow.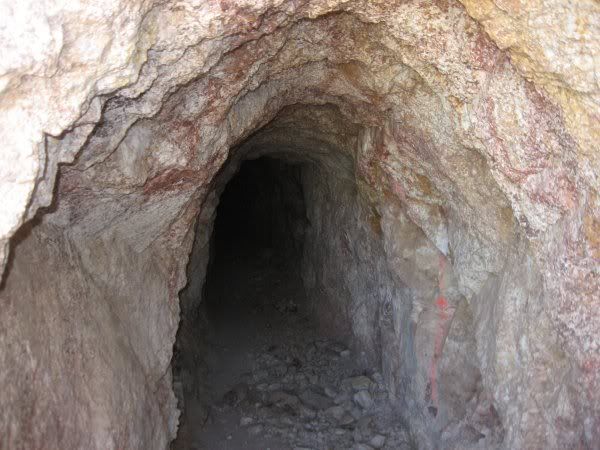 Jim and I agreed that it sure looked like an old Mexican working, based on the small size and shape of it, and the fact that there was no timbering in it anywhere.
About 30 feet in it started curving to the left rather sharply and began to smell a little Funky. A close inspection of the floor verified that some big cat had been in there many times before us.
We paused to consider if we wanted to go any farther in or not. Jim looked at his dog Gypsy who was right between us and said. "Gypsy doesn't seem to be concerned... She would be letting us know if there was any other living thing in this tunnel with us", so we continued on. The tunnel was still curving to the left at an angle that only allowed us to see about 15 feet ahead at any given time.
Eventually it straightened out, and we could see that we were only about 20 feet from the end of it. We estimated that the total length of it ran about 80 - 90 feet. It is hard to estimate distance when you cannot see all the way from one end to the other, and you are walking all bent over.
We did not see any quartz veins the entire length of the tunnel, but there was a lot of small quartz particles all over the walls and ceiling that sparkled when we passed the flashlight beams over them. There were a couple places along the tunnel were it widened out, and it looked like they had cut into some veins of some kind of yellowish sulfur material. We took some samples of it, but when we crushed and panned it later that day, we didn't find any gold in it. There was however a fair amount of small particles (visible only through a 10X loop) that looked like it could have been silver or platinum. Not really enough to make it worth while to carry enough of the rock out (many heavy trips) to collect a full ounce of it anyway.
Outside the tunnel in a nearby ravine we found the tailing pile for the tunnel. It pretty well blended in with the surroundings except for the color of it. There was a lot of red iron oxide and that yellowish sulfur stuff clearly visible in it. We had not noticed any of the red material in the tunnel. We assumed it had to be rained on and weathered to turn red like that? There were some pieces of quartz mixed in with the other tailings, but we never saw anything like it in the tunnel.
Tailing Pile
On the way out we poked around the old Palmer mine dump for a while, and Jim found a piece of rock that he liked the looks of. When we later crushed and panned it, we got a nice long tail (about an inch) of fine gold in the pan. I intended to get a photo of it, but Jim laid the gold pan on a table in the sun to dry, and before we go back to it, a gust of wind picked up the pan, and sent it rolling the length of Jim's front porch.
Another Lost Gold story!
You'll just have to take my word for it for now. But that's not the end of the story. We only crushed about 1/10th of the rock and I still have the rest of it. I may still get some photos of the gold in it.
Chunk of ore from the tailing pile at the Palmer Mine, that we got the gold out of.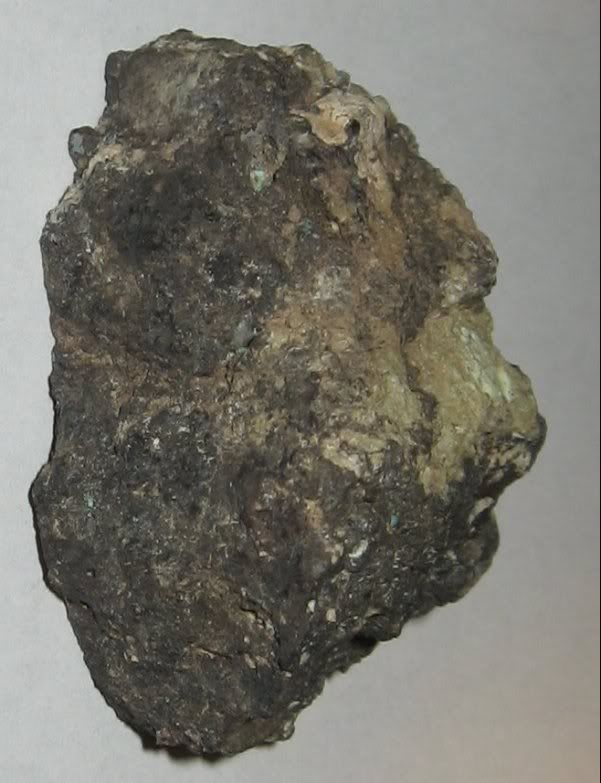 Kurt P.