Back Jan of 2003, I found an old mine way down near the bottom of very deep canyon in the N/W section of the Superstitions. I made several trips to it alone before taking Clay in there to see it, because he was always tied up with other matters that he couldn't get away from at the time.

Every time I went in to it, I took a different route looking for an easier way than I had taken before. I wanted to find the easiest way in and out because I knew it would be a hard trip for Clay to make. It was a long hike from where I had to park, just to get to the canyon. Then it was necessary to work your way down to the bottom of it, and then climb about 200 yards up the other side.

The photo below was taken from about 1 1/2 miles away with a telephoto lens. The square black hole in the middle of the photo is the entrance to the mine.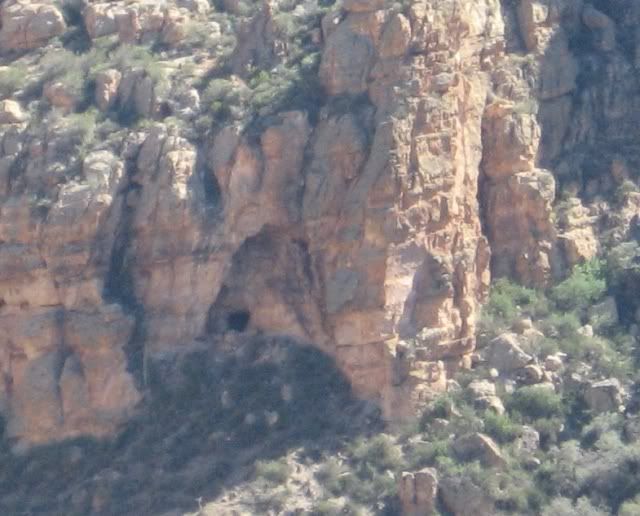 This photo was taken while standing right at the entrance.



Close up of a cinnabar vein that runs all over the walls and ceiling. All the samples I took of it, crushed and panned carried Mercury. Because of this, we Dubbed it "The Mercury Mine".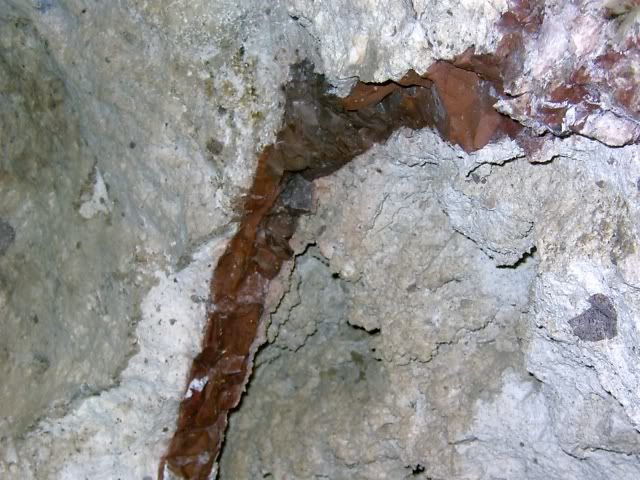 The floor of the mine has something very unusual about it, that I had never seen in any other old mine I had ever been in. About 6" down (Everywhere) there is a layer of vegetation about 12" thick. It appears to be a mixture of Sotole and Agave leaves.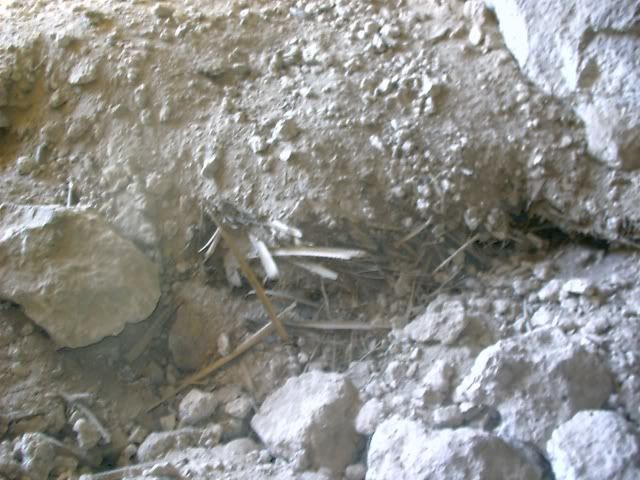 Inside the mine looking out.



After seeing all of these photos, Clay's interest in the mine began to grow until he finally cleared a couple of days from his schedule, in order to go have a look at it. We planned for an overnight trip to the mercury Mine.

It took us a lot longer to get to the bottom of the canyon than either of us had planned. We reached it just as it was getting dark, and we heard the sound of a thunder storm approaching from the south. In the twilight we searched all around for some kind of shelter in case it started to rain. Well it did start to rain, and it came down in buckets! Shortly after dark by the light of flashlights we finally found a small shelter under a rock that was large enough for all 4 of us ( Me, Clay, and our two dogs). The ceiling of the shelter was only about two feet high and we actually had to lay down and slide into it.

It was cold, we were soaked and there was not enough room in the shelter to build a fire even if we could have found any dry wood to burn. We managed to get our sleeping bags out of our packs and slide into them. Neither one of us felt like having anything to eat. We just wanted to get warm. The storm lasted most of the night and neither one of us got much sleep. I laid there thinking that it would be so much more comfortable if we were up in the mine itself, but I knew I would never be able to find my way up the ridge above us in the dark by flashlight.

When I woke up the next morning, Clay had found a little flat spot in a clearing and was cooking breakfast. He had managed to find some dry wood that had been pushed up into another small void during some really high water conditions in the bottom of the canyon.

As we ate breakfast, I was telling Clay that the mine was not far away, and it should not take us too long to get to it, but it would be a very steep climb, through some dense brush and trees. Clay was not feeling well at all. After giving it a lot of thought, he finally said… "Jim, I don't think I can make it up there and still have enough left in me to make it back to the truck without spending another night in here". We were not prepared to do that, (Food and Water) plus, we had left word that we would only be in the mountains for one night. If we didn't show up at home when we were expected to, we knew that Clay's wife and Doris would be worried sick.

As we were climbing out of the canyon, I told Clay about something else I wanted him to see if he could manage to go about a quarter of a mile out of the way, from the shortest way out. He asked me what it was? I told him I had found a natural cave that looked like someone had used for sharpening tools, because there were deep scratch marks and shallow drill holes all over the inside of it. He asked me if they looked like Indian markings? I told him "No", They looked like someone was sharpening drill bits and testing them for sharpness". Clay trusted my judgment and decided if that was what the markings were, He had to see them! We changed our course, and headed for the cave.

Clay sitting on one of the boulders with scratch marks on it at the entrance to the cave.



Another slab of rock with scratch marks all over it.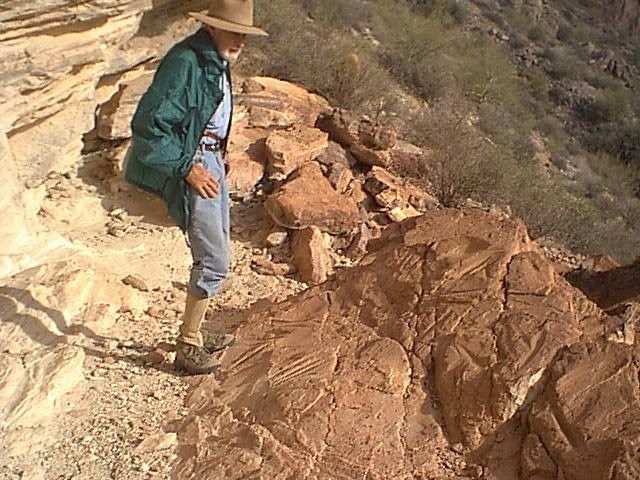 Close up.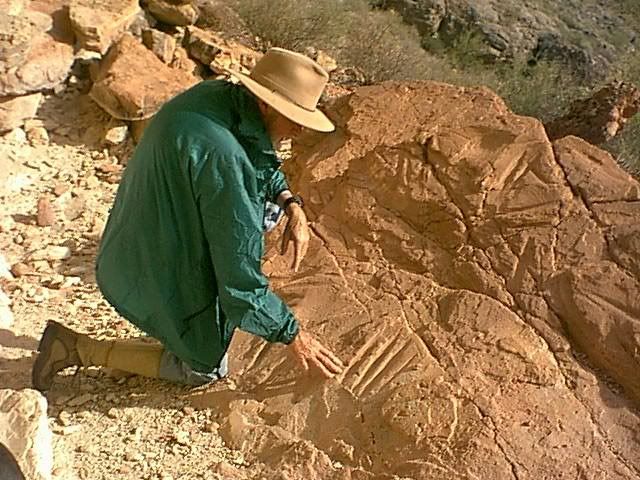 Shallow drill holes in a rock bench.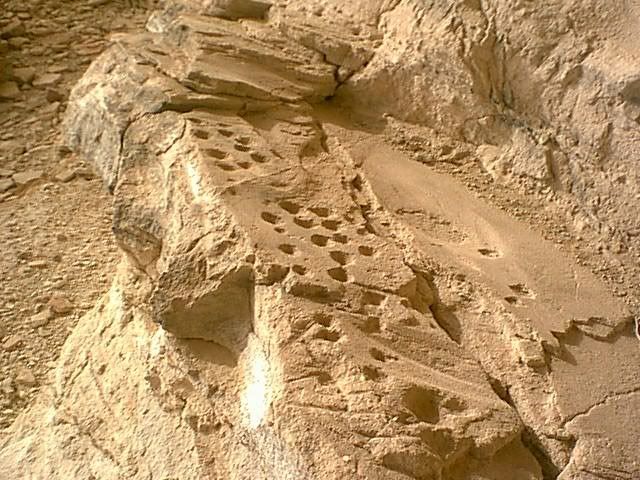 Close up.



Clay looked at all the scratch marks and drill holes, and finally agreed with me that, that's what they looked like alright. Someone had been sharpening drill steel in that cave. Was it the same people that had been working the Mercury Mine, way up and on the other side of the canyon, or was there another mine somewhere right around the cave, that we didn't know about?

After examining the scratch marks and drill holes. Clay broke out hot dogs and buns for a late lunch before we hiked the rest of the way back to the truck. He made a circle of rocks for a fire (Bottom left corner of the photo) while I gathered wood.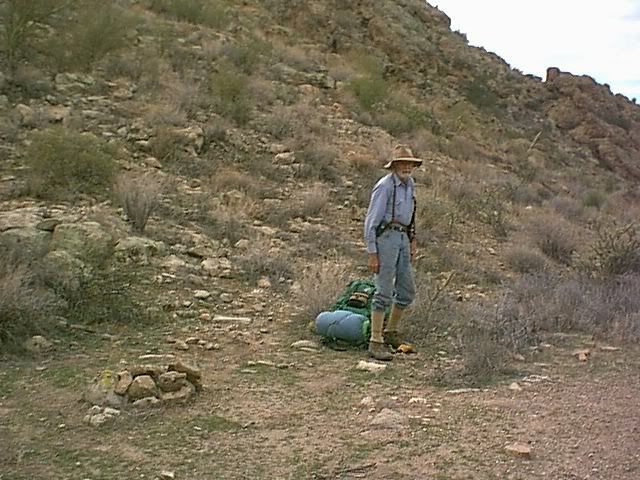 Clay never got to see the "Mercury Mine". Neither one of us has ever been back to it since that trip. Someday, maybe I will get back there again, and figure out what went on there, but I have my doubts about Clay ever being able to make that trip again.