LDMGOLD wrote:Jim:

Also Jim: If probably already know, but Ray Ruiz passed away on August 25, and was buried September 1, 2010. He was 97 years old and as sharp as a tack about history, and anything he did. Ray Ruiz is going to be missed by a lot of Ham Operators and others. As you know Ray G. Ruiz was the owner and operator of the Bluebird Mine Curio Shop and Ruiz & Sons Marina since 1967. He also owned operated the Canyon Lake Marina from 1957-1967. Ironically I had a long visited with him three days before he passed away.

All take care,

Tom K.
Tom,
Yes, I was aware of Ray's passing, and Doris and I attended his "Visitation" on the 31st. It was one of the saddest days we have had in a long time. I wanted to make a post about it, but I have not been able to find the words to begin. Almost as if... As if I ignored it long enough the need for it would go away, and he would be right back at his computer the next time I stopped in at the Bluebird.
It is a shame he never documented his knowledge of the history of the area. He did not do much posting in the forums here, but he was a registered member, and he enjoyed reading them several times a day.
When Ray smiled, he did it with his whole face. When he laughed, it was like thunder that filled the room, and you could not keep from laughing with him.
That is what I will remember most about him!
Ray in 2009 during during a small private party we had for him on his 96th Birthday. (Q-Ho-Tay was his Cherokee name)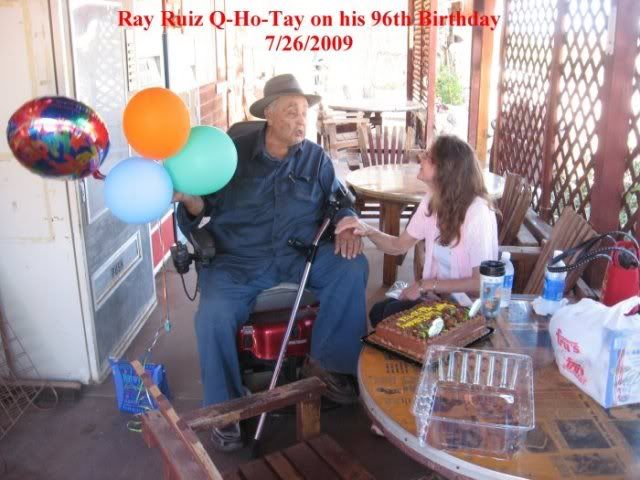 Ray at his computer (which he really enjoyed working and playing with) in his workshop.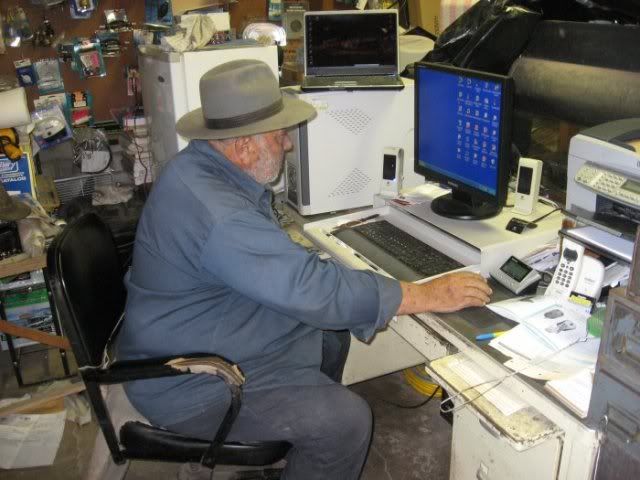 Ray pointing the way to the gold of Superstition Mountain
"It lies right over there"… is what he told me when this photo was taken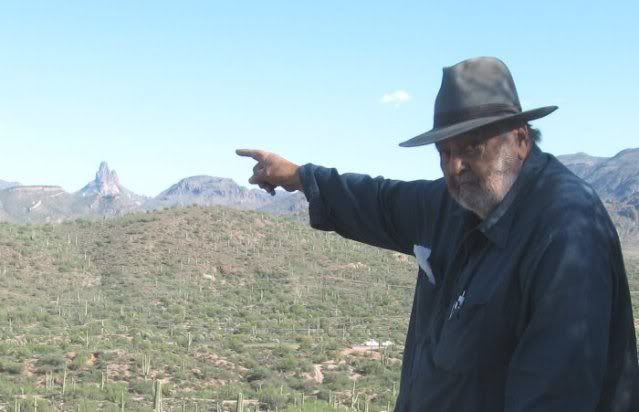 Ray was born on an Indian Reservation in Oklahoma in 1913, but he had no birth certificate. The earliest record he could produce as formal records was 1916, when he came to Arizona (at the age of 3) with his Grandparents who raised him. So his official records showed him as coming into existence in 1916. (The year he was first registered as becoming a resident of an Indian Reservation in Arizona)
He grew up living on Indian Reservations in Arizona. I remember him telling me that Indians could leave the reservations during the daylight hours, but they had to be back on one (any one) of them before nightfall.
There once lived an individual in Apache Junction, whom Ray knew his parents to be Italian, but the individual told everyone he was a full blooded Indian. Ray never outright challenged him about it, but always humorously referred to him as being a member of the "WAPaho" Tribe. "Wapaho" is a nickname we have since come to use, for people who exaggerate, or otherwise mis-represent themselves, or their amount of time and experience in the mountains.
He had close friends on several different reservations, and made many trips into the Superstition Mountains when he was growing up. He said they went to areas that had a "special" meaning for the people he was with. It was the only place where he could go at the time, spend the night, and not be afraid of being caught off the reservation after dark. Some of these things he would tell me a little bit about. Some he would not discuss at all.
He would never say anything that would direct me to any certain area. But if I asked him about a specific area I was interested in, he would sometimes respond that... "There are interesting things to be found in that area". That is as close as he would ever come to telling me what he knew about any "special" places in the mountains.
Ray once owned a trucking company in Chandler, Az and Marty Robins drove truck for him for 5 years. Ray played the guitar and banjo and used to play with Marty on weekends before he became famous.
Tom knew Ray much longer than I did, and could probably tell some additional interesting stories about his life in Arizona.
He will be sorely missed every day, until the day we meet up with him again!
Best,
Jim