Wow, here we are, last day of the year and last installment for this little thread. We've been having such nice winter weather until Wed. It rained all day then Thurs. it turned to snow and dumped more than a foot. Then today started out really cold but the sun came out on the snow and canyon country looks gorgeous on this last day of 2010.
I managed to keep up with the birding throughout the year, the only resolution I've ever managed to keep up for an entire year. The total bird species I got a positive ID on during the past 12 months was 61. I know I saw about 2 doz. others but couldn't get an ID on them for one reason or another.
Anyway, Thanks for indulging me and I hope some of you enjoyed this thread. Just one last photo, much like the first photo... this morning outside the window above my computer.
American Goldfinches and Lesser Goldfinches at the feeder-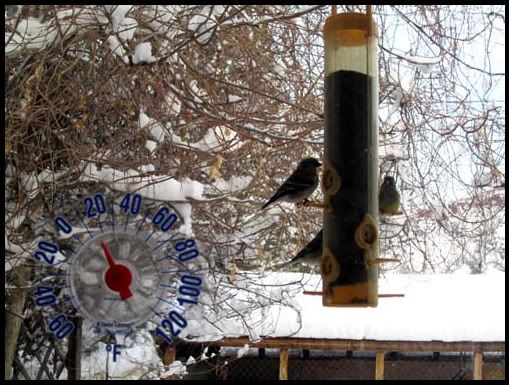 Have a great 2011.